SAN JOSE, Calif. -- Kris Letang has a hole in his heart. That's what the medical records show. It's barely the size of a pencil's point, as doctors diagnosed a couple years ago after a stroke had threatened so much more than his hockey career.
It's a small hole. But my goodness, it's a huge heart.
This husband and father knelt on one knee in the left faceoff circle at SAP Center. He did so in front of the clicking camera of his wife Catherine as he and their 3-year-old son, Alexander, gazed toward the greatest trophy in sports...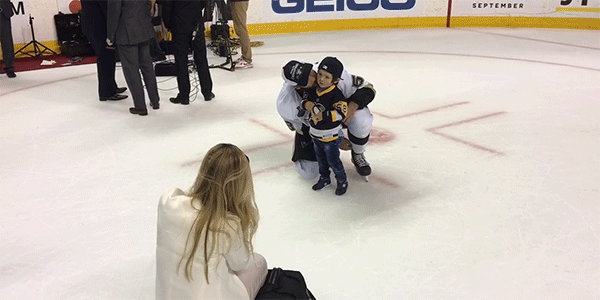 "That," dad spoke slowly into the right ear, "is the Stanley Cup."
"Stanley," the toddler echoed, "Cup."
"Go ahead. Touch it."
Yeah. Do that, kid. Do it for dad. Because even if this moment will be remembered only through the record books or highlights, appreciate right in this very moment that it was his virtuoso performance that clinched a fourth franchise championship for Pittsburgh's beloved Penguins, this by that 3-1 throttling of the Sharks that just took place on this surface.
And let that record show, too, that dad has no peers in his line of work, at least not in the estimation of the smartest hockey man in the building.
"What you just saw Kris do ... there's no defenseman anywhere who can do that," Jim Rutherford, the architect, would say later. "I wouldn't trade him for anyone. Not anyone. And that's because I know what's inside. I know what he's made of."
The heart, he meant. The heart beating like it never had before.
___________________
So go ahead, all active Penguins and injured guys and reserves and staff and athletic trainers and equipment staff and all the rest. Touch that Cup.
This time for real.
The game clock ticked to 0:00 as the real clock reached 7:47 p.m. Pacific Time, and the precocious rookie in the crease threw high into the air his blocker and big goal stick.
"I tried to throw my mask off, too," Matt Murray admitted. "By then, I was getting crushed."
But it was a good crushed, begun by an Ian Cole/Ben Lovejoy sandwich: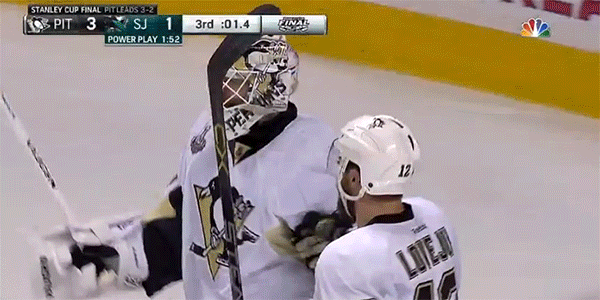 Seven years to the precise date of their previous championship in Detroit, this Game 6 was done. The Rangers, Capitals, Lightning and now the best from the mighty West, were all vanquished, all in two dozen games over two months, all through a riveting run that not a soul on this plane of existence had thought possible as recently as Christmas.
Since Mike Sullivan took over in mid-December: 49-25-5
Since that pivotal New Year's Eve rally in Detroit: 47-20-4
Since Malkin was hurt March 10 in Columbus, ostensibly crippling the chance of even qualifying for playoffs: 30-10
"You know, there was a lot of noise, and there were a lot of critics out there suggesting that these guys didn't have what it took," Sullivan said, still standing near the bench and striking a rare defiant note. "I couldn't be happier for them right now. Because here they stand and they've proven everybody wrong. I'm just ... I'm just so proud of this group for coming together the way they did."
This coach always seemed to say it best, and he did again: That was the No. 1 star.
Letang owned this one, sure, including the most Letang goal ever to decide it: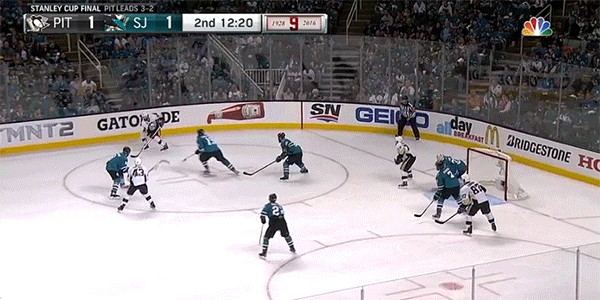 And absolutely, Sidney Crosby won the Conn Smythe Trophy on merit, his night exemplified by this shift in the third period that made the Sharks look like a bantam squad: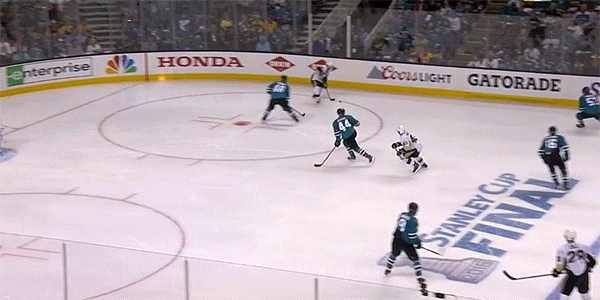 But to accurately summarize it all, it's probably most prudent to point to Brian Dumoulin, he of zero goals in the regular season, setting the stage:
Because that's how this worked: When Crosby and Evgeni Malkin didn't score, Phil Kessel or Patric Hornqvist or Nick Bonino did. When Carl Hagelin and Matt Cullen weren't flying, Bryan Rust or Conor Sheary were. When Letang was suspended, Trevor Daley was a beast. When Daley was felled, Olli Maatta was resurrected.
To word that another way, the Sharks put two pucks at Murray in the final period.
Stop and process that alone, given the caliber of the opponent, given the circumstance. Two official shots. And none at all on the lone power play of the period.
"To me, that's what this team is all about, that third period," Dumoulin said. "We have stars on our team, of course, but it was all about everybody working together. In that third period ... we never stopped rolling all the lines, all the pairings."
The engraver had better not miss a name.
___________________
Go ahead, Captain. Take that Cup from the commissioner and skate it around all summer long as if Santa stuffed the stocking with the toy of your dreams:
Crosby's smile wasn't just a smile, brightly as it shone. Look closer, and you'll see relief. It was a lifting of the weight of the concussion scares, the occasional scoring droughts and -- this is way at the top, make no mistake -- the growing list of playoff failures that threatened to carry into his thirties, maybe the rest of his career.
"This is special," he'd say. "I'm not going to lie: This is special."
Let's keep this simple, for purposes of clarity: Sidney Patrick Crosby is the greatest hockey player in the world. He's a great captain. He's a great clutch performer. He's a civic treasure in every sense, and he's earned being embraced as all of that and more not just by Pittsburghers but by the hockey world as a whole.
____________________
Go ahead, Geno. Tote that Cup around the world for all your usual summer adventures, maybe even snorkeling with some real sharks off the Russian coasts.
Something was amiss for a while, no doubt. But he stepped up when it mattered most.
"We worked so hard, all of us," Malkin said. "We deserved this."
He did, too.
___________________
Go ahead, Phil. You just go right ahead.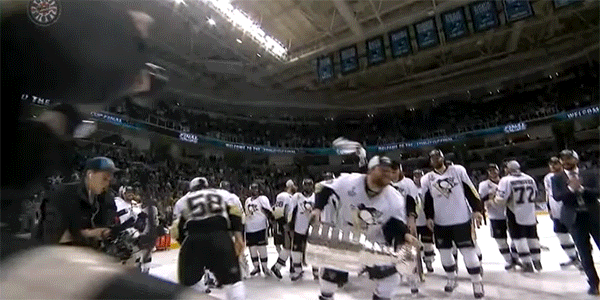 "What a feeling! I was just so happy, right?"
That's right, Phil.
Take that, Toronto. You were always the loser in the equation, not the most consistently effective player on the Stanley Cup champions this spring.
____________________
Go ahead, HBK. Touch it as a trio.
[caption id="attachment_89444" align="aligncenter" width="600"]
Phil Kessel, Nick Bonino and Carl Hagelin. -- DKPS[/caption]
Because there was no separating Kessel from Bonino and Hagelin, not on the ice or off it. A bond formed, as often happens in hockey chemistry, that transcended the games, and the best line of the playoffs was the rich result.
"We're friends," Bonino said. "We trusted in each other in every way."
____________________
Go ahead, Wilkes-Barre kids, and let's resolve to never call them that again.
If Murray's occasional ups and downs led to some heartache back home, they also led to a 15-6 record, 2.08 goals-against average and .923 save percentage. Which was only one of the finest rookie goaltending showings in Stanley Cup history. And at age 22, no less.
The future can wait, though.
"I just want to enjoy this. I do," Murray said. "All of this happened so fast, it was hard to really appreciate any of it. That's what I want to do now."
Call this coincidence -- and all concerned did exactly that -- but Murray skated his lap with the Cup, then handed it to Rust, then Sheary, then Tom Kuhnhackl, as if to symbolize the ride being completed from Interstate 80 across the continent and all the way up the figurative mountain to a Hollywood ending: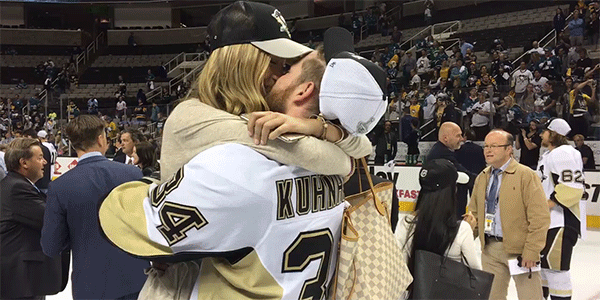 ____________________
Go ahead, older dudes, too. If this is it for Kunitz and Cullen, and that's not at all to suggest it should be, this was a superlative way to go.
Kunitz was among the best players in Game 6, and not just because of this artful backcheck on the Sharks' Joel Ward in the first period: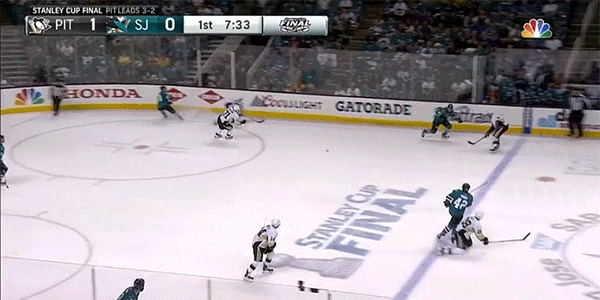 He was just that good. He was Sochi good. And who knew that would be seen again?
As for Cullen:
https://www.youtube.com/watch?v=O4OpH8f1c9A
____________________
Go ahead, Patric. Savor every sip of that pricy champagne.
No one paid a price quite like No. 72 all through the playoffs. And no one could imaginably have been more deserving of facing that empty net at the end: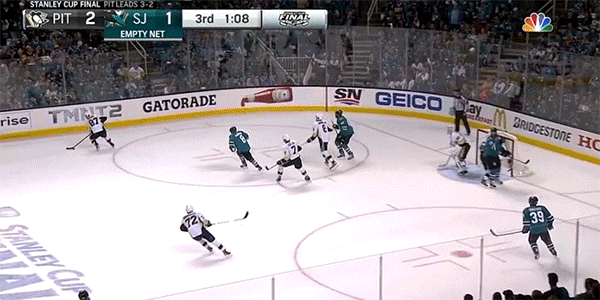 ____________________
Go ahead, Ian and Ben and Eric Fehr, the unsung and under-appreciated ... until now.
One has not experienced the shellshock effect of the Cup presentation until one hears Lovejoy, the ultimate quote machine all his life, rendered almost wholly speechless.
"I ... honestly, I don't know what to say," he tried to say. "I just don't."
____________________
Go ahead, Marc-Andre Fleury and Jeff Zatkoff. Any team that starts three goaltenders and dresses four needed all available hands at the most vital position.
Fleury might have been forgotten by some, but not by those who recall when he was the only man keeping the Penguins afloat in the season's first two months. Never mind owning every franchise record of note.
If he's gone this summer, then our last glimpse will be of one last twirl with the Cup.
And Zatkoff ... well, here's what Rutherford said when the two embraced during the celebration: "You ... if you don't do what you did for us in Game 1 against the Rangers, if you don't give us that lift ... I don't even want to think about it."
The first save sets the tone.
____________________
Go ahead, Olli.
If cancer couldn't kick your behind, if two shoulder surgeries and a mangled hip couldn't do it ... wow, what chance did the Sharks have?
It was all worth it, to see this golden reaction:
https://www.youtube.com/watch?v=QA4jB86Lk2Y
____________________
Go ahead, Pittsburgh. Touch it.
Yeah, that means you, whether you winged it twice to the West Coast to witness it all, whether you flooded Consol Energy Center for the big watch party, whether you filled the bars along Carson, or whether you just clutched the pillow on your couch for eight excruciating, exhilarating weeks.
Go ahead and touch 'em all, like Maz and Roberto and Willie of the franchise that invented the World Series. Tackle that thing like Mean Joe and Terry and Franco of the world's most successful football team. Pass it around like Mario to Jaromir to Ronnie, like Tommy to Joey to Artie, like Max to Billy to Gonch and now, again, like Sid to Geno to Tanger to Flower to Kuny and, of course, to Duper.
Represent them all, one lineage to the next. Because that's how it's done around here:
Look at that list. There's one common denominator among all 15 of those achievements, and that's the first name: Pittsburgh.
We once were defined by steel. Then by the Steelers. And now, our remarkable city that's broken through all the Rust Belt barriers to the point of setting the global standard, we're simply defined by sports. We shut down churches on Sunday for kickoffs. We shut down schools for the spring's first pitch. And on this night, after the deep disappointment of losing after we shut down Downtown, Uptown and all around Consol, we're right back up on our feet and doing it all over again:
https://www.youtube.com/watch?v=7sZRBCaxMgI
We complain all year. We criticize. We demand more. But when it's done "the right way," to borrow from Sullivan's favorite saying, we enjoy it in a way other cities can't even fathom.
Only two cities have won at least one major-league championship in each of the past six decades. New York, which has had three times the number of franchises in that span, is one. The other is someplace truly special in that regard.
Our sports teams are who we are. We set a bar that reflects each other. If they fail, we've failed. If we let them down, they'll let us down.
Which is why neither happens.
___________________
Go ahead, hockey world and NBC wags and New York writers who whined about the Penguins being the NHL's "most hated" team. Deal with all of that.
This franchise that's long been the target of resentment and jealousy across the continent is now rubbing elbows with Gretzky's Oilers, the dynastic Islanders and, of course, the Original Six, when it comes to Cups. And the latter group only had a half-century head start:
And the sweetest aftertaste of all just might be that the Penguins have done it their way, through speed, skill, scoring and some of the sport's brightest stars of all time.
#SorryNotSorry, as the cool kids tweet.
___________________
Go ahead, Mario. Touch it.
Maybe for the last time, maybe not.
Let's hope not. Because the moment Le Magnifique stops raising the Cup to the roof, that's the moment a piece of all of us passes on.
He's been a champion twice in full uniform, part of a career in which he proved to be the most gifted player of all time. He's now been a champion twice in a suit and tie, the pinnacle of a resume that includes nothing less than having saved the franchise on multiple occasions. Throw in the construction of a few hospital wings, countless other charitable endeavors, and the surface is merely scratched.
[caption id="" align="aligncenter" width="600"]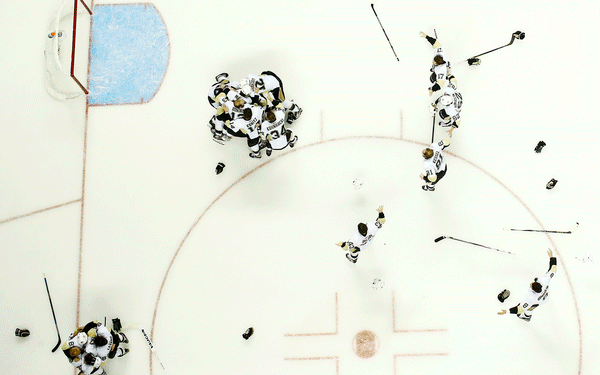 The Penguins come together after the final horn. -- DKPS[/caption]
Predictably, No. 66 accepted none of the credit.
"When you've got Crosby and Malkin and Letang, you're always going to have a chance," Lemieux would say in one of his many on-ice interviews, a sight that only added to the evening's surreal feel. "It was a great job by Jim and Mike and the coaching staff to build the group around them that they needed to build."
The owner had a clear top for that list.
"That all started with getting Phil Kessel, as everyone got to see. And then adding Carl Hagelin and the young guys, it really changed the way we played. With Sid and his leadership all season, especially in the playoffs, everything came together."
He paused and looked over toward Nathalie and his children, offering the trademark wink.
"It's hard to win the Cup. We haven't done it for a few years. We're going to enjoy this one."
Any chance he'll reconsider selling?
"I don't have any comment on that. Ron and I still own the team, and we're happy with where we are."
Together with Ron Burkle, the man many behind the scenes credit as being the singular steadying force, this ownership group ensured business was conducted first-class, that their general manager could always spend to the cap and, in maybe their masterstroke, engineered along with David Morehouse the management overhaul that led to all of this.
"What an amazing team," Burkle said. "And I mean team."
All three men spoke passionately about Rutherford, notably the one who hired him.
"We couldn't be more proud of Jim and the job he's done," Morehouse said. "This is his team, his work, his stamp."
___________________
Go ahead, Mr. GM. It's your turn out of the shadow.
Only this time, unlike with the Hurricanes in 2006, do it with chest out, chin up. Because this baby, with few exceptions, was conceived by your wisdom, your shrewdness and, maybe above all, your ability to process and implement new-age ideas in a 67-year-old mindset.
This team was about its identity far more than its individuals. It was about how the speed impacted the whole. It was about prioritizing being fast over being furious in this age where way too many teams still think they need to slug it out to be successful.
Rutherford won't lay claim to any blueprint for future champions. For one, he's too humble. For another, other teams such as the recent Islanders, Senators and Lightning tried the can't-catch-us-to-check-us approach to varying degrees. Rutherford just did it better.
The old man took everyone to school.
And now?
"I'll think about my future some other time. I'm going to the U.S. Open next week."
___________________
Go ahead, Coach. Touch it.
This was so, so much you, and you have to realize that, even if you'll never confess.
The core had come away empty-handed for seven years until your arrival. Most of Rutherford's roster had been been floundering before your arrival. The Penguins hadn't just stopped being champions. They'd stopped being the Penguins. They weren't just losing. They were lulling their own faithful to sleep.
Along came one man with a steely gaze and relentlessly desperate disposition to solve it all.
Well, steely and relentless all but for this:
"It's hard to articulate," he replied with the slightest crack when asked what the achievement meant after so many years as someone else's right-hand man in the NHL. "It's hard to put into words the emotions that are going through me right now. It means ... it means so much. People who are close to the game understand how difficult this trophy is to win."
To much better understand Sullivan, to understand his drive, his determination, do yourself a favor and listen to this audio from his interview session afterward.
He's ready to coach Game 7 this very morning. Maybe Games 8 and 9, too.
Take that lap. But take a deep breath, too, man.
____________________
Go ahead, Eddie Johnston and Jack Riley. Grab that old chalice again.
One founded the Lemieux era, the other built the franchise's first roster 49 years ago, and both remained vital links to the familial atmosphere that has long defined the Penguins to people around the hockey world. They're the patriarchs of that. They're the connection.
Mr. Riley hasn't been well enough to be around for a while, and E.J. wasn't able to make this trip. But plenty of others were: Pierre Larouche, sniping star of the 1970s and Lemieux's close friend, was savoring the Cup right there on the ice. Scorin' Warren Young, one of Lemieux's first NHL linemates, was in this house. The Doctor was in, too, Paul Coffey saying, "I wouldn't miss it for anything." Jay Caufield, Phil Bourque, both broadcasters but all with the deepest of emotional ties, were there, too.
Truth be told, the Ole Two-Niner was almost shaking up there in that booth -- all series long, actually -- right alongside the most venerable of all the Penguins, their living legend of an announcer who delivered this radio call for the ages.
That's four, if you're keeping score. One for Mike Lange, Grandma, Arnold Slick and Sam's dog.
Camaraderie isn't built by one captain in one locker room. It's forged over decades, through the pressure of one's peers and predecessors. The Penguins' wealth in this area is beyond compare.
It's a family:
[caption id="" align="aligncenter" width="600"]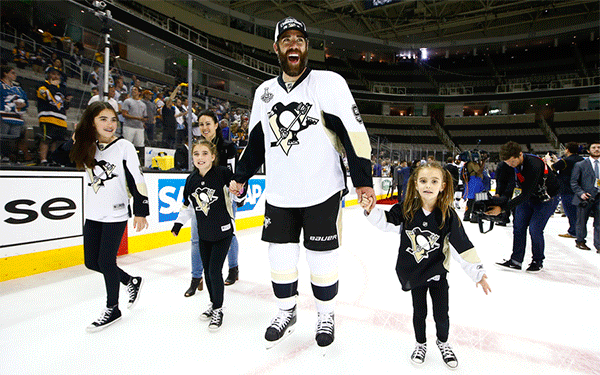 The Penguins share the joy with their children. -- DKPS[/caption]
____________________
Go ahead, Rick Tocchet and Jacques Martin for implementing Sullivan's system in midstream, among the most difficult coaching tasks in sports.
Go ahead, Billy Guerin, Jason Botterill, Mark Recchi and Sergei Gonchar, for, more than anything, bringing along those Wilkes-Barre players properly. No one anywhere thought of any of them as top prospects. They became top-level contributors on the top team.
It takes a village.
____________________
Go ahead, Justin Schultz. Approach it. Don't be nervous.
Sure, you've been saved for last here, but it's for a reason.
Because even after this had taken place ...
[caption id="attachment_89429" align="aligncenter" width="600"]
Justin Schultz takes his turn with the Cup. -- DKPS[/caption]
... there you were afterward, standing at the perimeter of the center faceoff circle, just staring at that Cup that your captain had just set down. Not moving. Not speaking. Just staring with jaw slightly agape and that gap-toothed grin ready to break through the beard.
He'd been stuck with the Oilers, the league's worst team, labeled a loser just as Kessel had been in Toronto. He freely concedes he never wasted energy envisioning this moment.
And yet, here it was. There it was.
So he finally skated forward, deliberately, then dropped to a knee and ... yeah, he touched it.
And under those fingers, now trembling, were engraved the names of the giants of the game. Of Rocket Richard. Of Jean Beliveau. Of Bobby Orr. Of Gordie Howe. Of Wayne Gretzky.
Of Mario.
And now, of Justin Schultz. Stanley Cup champion. Indelibly imprinted forever.
"I'm a champion, man," he'd fairly whisper a little later. "Me ... I'm a champion."
Earlier in the evening, Schultz had made enough miscues that Sullivan benched him. But none of that mattered in this moment because none of if mattered in that moment. Not to this remarkable, resilient team.
There are no holes in the whole.
There are no holes in the heart of a champion.
MORE PENGUINS
• BOXSCORE     • STATISTICS     • STANDINGS
Yohe: That's Cup No. 4 and counting
Yohe: Crosby earns Conn Smythe
Yohe: Dupuis, Daley never forgotten
Video: Crowd at Consol celebrates
Morning Java: Ian Cole on the ice!
To continue reading, log into your account: