WINNIPEG, Manitoba — This place didn't save my life. But it very much gave me life.
It was the spring of 1996, and yet there was none of the fresh feel that the season usually brings. I'd grown stale. I'd pretty much holed up alone in my project-level Penn Hills apartment, emerging only to play hockey or to consume late-night pizza. And this was mostly because I'd fallen out of love, if you can look at it that way, with my chosen profession. Two years earlier, after just a brief time as a reporter on high school sports at the Post-Gazette, I was asked by the editors if I'd be interested in being an editor. I wasn't, really, but said yes, anyway. I was young, still new there, and didn't want to appear ungrateful.
I put everything I had into that job. But not my heart. It always felt like making other people's work better rather than doing my own. I was hired as a writer. I told myself that I wasn't one anymore. I repeated it again and again, including to friends and family who questioned the decision, but it was a lie. When the job was done, I punched the clock. Called it a day. Slept in all the next morning, woke up, punched the clock all over again.
In the spring of 1996, the city of Winnipeg was dying.
That had nothing to do with me, of course. I'm a born and raised Pittsburgher. I've only ever known one hometown, and I'll never know another. But in my position on the sports desk, one of the requirements was scanning news from all over. And I began to take an interest in these impassioned stories emanating from our continent's coldest city and smallest professional sports market. The NHL was on the verge of moving the Jets to, of all places, Phoenix, where the average temperature is about 100 degrees higher and the interest in hockey was about 1,000 degrees lower. It was strange. It was sad. And the more I read about how hard it was hitting the grownups and children alike, how they were having their identity essentially stripped away, how professors and doctors feared for the end of their way of life, how angry teenagers had taken to spray-painting or etching SOJ — 'Save Our Jets' — all over their downtown, how even the players on the active NHL roster were moved to tears over this pending parting … I had to go.
This wasn't for writing, mind you. The Post-Gazette would never want me to go. I knew that. I was an editor now, and that's how they'd want to keep it. Moreover, there would be close to zero interest in such a story in Pittsburgh. No, I just put in for a vacation, bought a plane ticket, booked a cheap hotel and took off, hoping I'd time the trip for what could have been the Jets' final game at half-century-old Winnipeg Arena.
When one loses his or her mind, one never knows what to expect. I didn't, either.
I contacted Rich Nairn, the Jets' media relations officer, and explained that I was flying from Pittsburgh to cover this story. I'm not sure to this day that he believed me, but he had a credential and press-box seat waiting. I was the only American media on hand, other than those covering the visiting Red Wings. Not even Phoenix had bothered to send a reporter.
All that followed was the single most powerful sporting scene I've ever covered and one that I hope never gets topped. Because it was awful. It was 16,000 people watching their Jets on the way to losing a decisive Game 6 in the playoffs, and it was the emotional equivalent of a mass Italian funeral. It was a collective cry. A wail, a roar that shook the old barn and the famous giant icon of Queen Elizabeth that lasted all through the final 10 minutes of the final period. That they stood throughout, that they wanted their pain to be seen and heard by anyone still paying attention made it all the more moving.
Eddie Olczyk was a player on those Jets. He and I have spoken often of these few minutes. He's admitted to me that he cried on the bench, then again later when he and his teammates decided on their own to return to the ice after the game in response to the still-going roar.
"I took my sweater off and gave it to a kid near the glass," Edzo remembered. "I'll never forget the look on his face. And the look on his dad's face was even worse."
There isn't much footage left from that night but for this enduring clip on YouTube:
You're damned right I was going to write about this.
I didn't even care if it would ever get published.
I left the Arena and headed, for no particular reason, toward the downtown's iconic corner of Portage and Main, the proudly self-described coldest intersection on the planet in part because of the way the wind whips through the angular buildings there. And when I poked into a coffee shop and saw a few blue-and-red-clad fans, I approached and began asking about their feelings, about their experience, as any reporter would.
Funny thing: They were more interested in mine.
And when the first one asked why someone from Pittsburgh would come "all the way up here, for crying out loud," I told them of my interest in their story. But when others pressed, I came further clean and confessed that I also wanted to write again. And maybe this was my subconscious way of embracing that anew.
Well, that did it. This handful of people — four boys, two girls, if memory serves — told me they were taking me for a walk. It was well after midnight by this point, but they knew all the good hangouts, all the ones open late, and all the people who would be able to share all the most poignant stories related to their love of the Jets and their feelings and fears about their city's future. We went on and on until the wee hours of the next morning.
I wrote this story. Oh, man did I write it. I excitedly called Lori Shontz, an excellent Olympics reporter/writer at the Post-Gazette who had become kind of my on-the-shoulder voice through all this, and shouted into the phone, "I have this! I'm telling you, Lori, I've got every bit of this!" That's reporter-speak for knowing you've got the raw material for something great. And I did. After three days of agonizingly re-learning how to connect nouns and verbs, this would run as our Sunday section's centerpiece, in addition to being picked up nationwide through a wire service chain. I'd hear from people all over the world and, best of all, from Winnipeggers far and wide.
Two months later, I felt so emboldened by all this that, in what will have to be another story for another day, I followed a one-photograph trail of an extraordinarily beautiful girl in western Romania and, within a week of actually meeting, married her while wearing a Winnipeg Jets T-shirt. (Seriously, don't ask. Another day. That deserves its own piece.)
I flew back to Pittsburgh alone — she had to stay in Romania an extra three weeks to get a visa — and spent most of those hours building up a new determination to resume writing full-time. Which I'm happy to say was granted by those in charge, who went above and beyond by pairing me with Hall of Fame beat man Dave Molinari on the Penguins beat.
My career was changed forever. My life was changed forever. I found the girl of my dreams and, ultimately, the finest family and career any Pittsburgh guy could want.
All of it started here. And I'll love this place, its people, its passion, its toughness to tolerate minus-23 temps like those outside these past couple days … I'll love it forever.
Three years ago, as you know, the Jets came home.
And they came home to a healthier, livelier city that had actually grown by 100,000 to its current population of 700,000. The downtown has added skyscrapers, riverfront parks, a gorgeous new bridge called the Esplanade Riel and one of the world's most astounding architectural structures in the new Canadian Museum of Human Rights:
The Museum alone simply has to be seen to be believed:
They were stronger than losing their Jets but also strong enough to get them back and instantly make them one of the league's great financial successes with a mile-long waiting list for season tickets and the unquestioned loudest crowds in the sport.
Every year that the Penguins have visited the reborn Jets, I've made it back. Two years ago, for the first time, I brought my wife — yes, that same girl — as well as my daughter so they could experience this place at least once.
Which they did in style …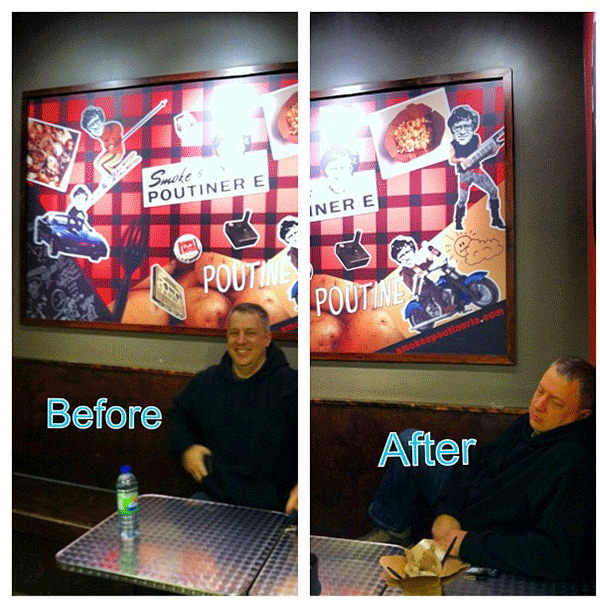 I've since forged many friendships here, none more important to me than that of Gary Lawless, a longtime media giant here and great all-around human being. They've taken me on tours of the city — "Hey, there's Olli Jokinen's mansion!" — they've taken me out for poutine, and they've tried in vain to teach me curling.
They've also taught me the Winnipeg water trick:
It's so, so good to be back here. Always. Maybe next year, I'll bring my young son.
I can only hope he'll have his own Winnipeg someday.